Baseline Nutritionals has closed its doors
Replacement products
The future of Baseline Nutritionals
The Complete Baseline of Health
Information about ordering The Complete Baseline of Health
Baseline Nutritionals has closed its doors
Yes, Baseline Nutritionals has indeed closed its doors. Note: although we have been closed for over a year, we still have, at least for now, a limited customer service team on the job for anyone who stocked up on products before we closed and still has questions on how to use any of those products. We will keep that open as long as we can.
Replacement products
Since we haven't found a suitable buyer for Baseline Nutritionals, Jon is looking for acceptable replacement products. The problem, of course, is that Baseline only made products that we believed you couldn't get else. If there were products that could straight out replace our products, we wouldn't have made them ourselves. And in fact, many of you have told us as much by letting us know that substitutes that you have found on you own and already tried have simply not worked as well. That said, we are looking for substitute products that at least come close.
Please do not write to us asking about replacement products. We are not keeping them secret. As we find them, we will post them on the individual product pages on this site in the section on Availability on each product page (Check out the Ever Young page as an example.). If you do not see any recommendation there for a given product, it means we haven't found a reliable substitute yet. Nevertheless, you should see more and more recommendations appearing on those pages in the months going forward.
The Future of Baseline
At this point, we are no longer actively looking for a buyer for Baseline Nutritionals. To be sure we have received dozens of offers. Unfortunately:
Only six were from companies that had enough money to effectively take over Baseline. The problems is that none of the six could convince us of their intention to maintain product quality long-term. We couldn't shake the feeling that all they really wanted to do was capitalize on the Baseline name and gain access to the Baseline customer database to maximize profits at the expense of quality. That was unacceptable.

We did have two offers from huge M&A (mergers and acquisition) companies. They potentially involved obscene amounts of money. But they both required Kristen and Jon to stay on working full-time. And after 17 years of 12-14 hours a day, 7 days a week, that was not an option for them.

The vast majority of offers, however, were from underfunded, small companies or individuals. Forget any money needed to actually buy the company (they were looking to pay for that out of future profits), they didn't have close to enough money on hand to pay for restocking the Baseline formulas so they'd have something to sell (approximately $1.5 million). We think most of those people were confused when they looked up our corporate address in Google Maps and saw a small house in Las Vegas and thought to themselves, "Hey, I could run Baseline out of my house as well at no cost." The problem is that was not Baseline's actual address. It was the address of our resident agent in Las Vegas, a necessity since Baseline Nutritionals was a Nevada corporation. Unlike that little house/office, Baseline Nutritionals was an international operation with a premium, high-quality, product-line that was made in cGMP manufacturing facilities that specialized in either enzyme, tincture, food, or nutraceutical production. And it required a number of people with very specialized expertise to run it. Bottom line: no money and no expertise were non-starters.
All that said, Jon is exploring other options for making high-quality versions of his formulas available. If anything works out in that regard, we will let you know.
The Complete Baseline of Health
For anyone truly interested in health and nutrition, Jon Barron's book, The Complete Baseline of Health is essential. At over 1,300 pages, this is a complete graduate-level masterclass in alternative health. And with over 1900 clickable citations, The Complete Baseline of Health is the ultimate research and reference tool for anyone interested in holistic healing. This is not just another eBook translation of a printed book. It was designed from the ground up as a digital book (there is no printed edition), with hundreds of live links, and over a dozen embedded videos.
For those reluctant to download it, consider:
At only $9.95, it is the biggest bargain in alternative health.
For those who think 1,300 pages is too much to read, remember, this is not a novel. It's a comprehensive, completely searchable reference tool on health and nutrition—that just happens to be as easy and fun to read as a novel. You can:

Methodically work your way through it from beginning to end if you're looking for the full graduate level experience.
Read it at your own pace if that's what you want.
Or bring it up as needed and run an electronic search on whatever particular health issue you want addressed at the time.

For those who want a printed version, it's 1,300 pages. If we sold a printed version, that would be 3 volumes and would be far, far more expensive than $9.95. (At 20 cents a page for full color, it would cost over $200 dollars if you printed it yourself, and that's without binding.) And you would lose access to over 3,000 pages of linked information. Or to look at it another way, you would loose access to over two-thirds of the book.
And for those who want a PDF version, that too is unworkable.

First of all, Amazon charges authors a 15-cent delivery fee for every MB of file size. Since the eBook version is 12 MB, that's $1.80 Amazon takes off the top. They then collect a 30% royalty fee for selling the book on Amazon. That leaves $5.70 for the author.
But PDF files run at least 10 times larger than eBook files. That means Amazon would charge an $18.00 delivery fee. Since the book would then be over $9.95, Amazon would take a 35% royalty—leaving $4.55 if the PDF were priced at $25.00. But more important, since the book would be priced higher than $9.98, it would no longer be able to be part of Amazon Marketplace, which would severely restrict the ability to sell the book.

And in addition to cost, unless you're printing out the PDF file (which as we've already discussed is not a viable option), PDF files are much less readable on a screen than are eBook files. For more information on the advantages of eBook over PDF, click here.
Information about ordering The Complete Baseline of Health
Order it now from Amazon.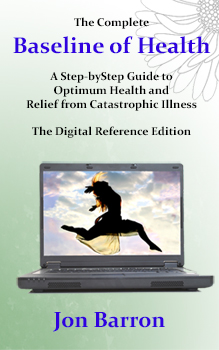 If you have any questions:
About the book

Why there is no printed edition

Foreign orders

Problems ordering