Baseline Nutritionals has closed its doors
The future of Baseline Nutritionals
Where to order Baseline Nutritionals products
Replacement products
Information about ordering Jon Barron's new book
Baseline Nutritionals has closed its doors
Yes, Baseline Nutritionals has indeed closed its doors. Note: although we are closed, our customer service team will remain on the job until at least the end of May to make sure that anyone who bought from us will be covered in terms of getting any product questions answered during this period of transition.
Where to order Baseline Nutritionals products
We'll keep you informed on this page as things evolve. (Check out The Future of Baseline below.) But for now:
Replacement products
Since we haven't sold Baseline Nutritionals yet, people are continually asking us what products we recommend to use as Baseline replacements. The problem is, of course, that Baseline only made products that we believed you couldn't get else. If there were products that could straight out replace our products, we wouldn't have made them ourselves. And in fact, many of you have told us as much by letting us know that substitutes that you have already tried have simply not worked as well. That said, we are looking for substitute products that at least come close.
Please do not write to us asking about replacement products. We are not keeping them secret. As we find them, we will post them on the individual product pages on this site in the section on Availability on each product page (Check out the Ever Young page as an example.). If you do not see any recommendation there, it means we haven't found a reliable substitute yet. Nevertheless, you should see more and more recommendations appearing on those pages in the months going forward.
The Future of Baseline
Although, Baseline Nutritionals has closed, we are still actively looking for the right buyer. Jon Barron's book, The Complete Baseline of Health will continue to serve as an ambassador-at-large promoting the availability of Baseline for acquisition now that we are closed. If you read the book, you will understand why it is the best "salesman" we could possibly have.
To see the requirements for purchasing Baseline Nutritionals, Click Here. Please do not contact us unless your company qualifies.
Information about ordering The Complete Baseline of Health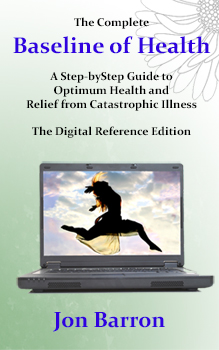 If you have any questions:
About the book

Why there is no printed edition

Foreign orders

Problems ordering